Is your property due for a termite inspection ?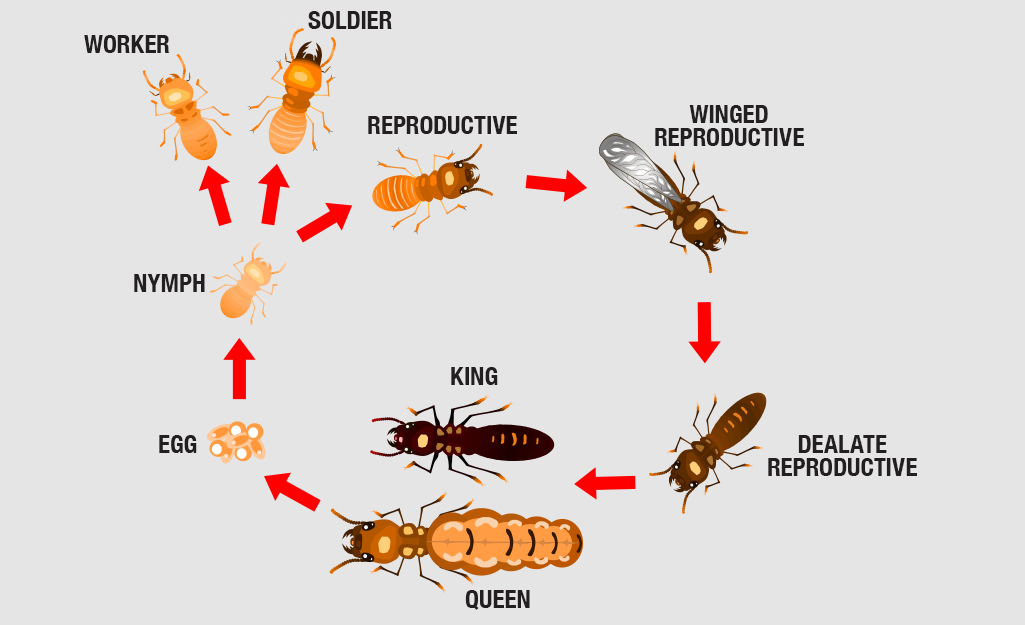 Bit Of Termite Background
What are Termites?
Termites are small soft-bodied soil or wood inhibiting eusocial insects that live in large colonies.
There are approximately 2800 termite species known around the world with around 350 species within Australia, 40 of which are known to be invasive and destructive.
Termites seek to feed on cellulose rich materials that can be found in trees, grass and soft timbers like pine. While they can eat any type of timber, there are some types they prefer to avoid as much as possible. Broadly speaking, termites dislike heartwood timbers.
Termites forage for food by means of subterranean galleries or covered runways, which extend from the central nest to the food sources above or below ground.These nests can be found in trees, stumps, under concrete or in adjoining bush land areas just to name a few places.
The gallery system of a single colony may be used to exploit food sources over areas bigger than one hectare, with individual galleries extending up to 50 metres in length for most species.
Many people refer to termites as white ants, however they are more closely related to cockroaches!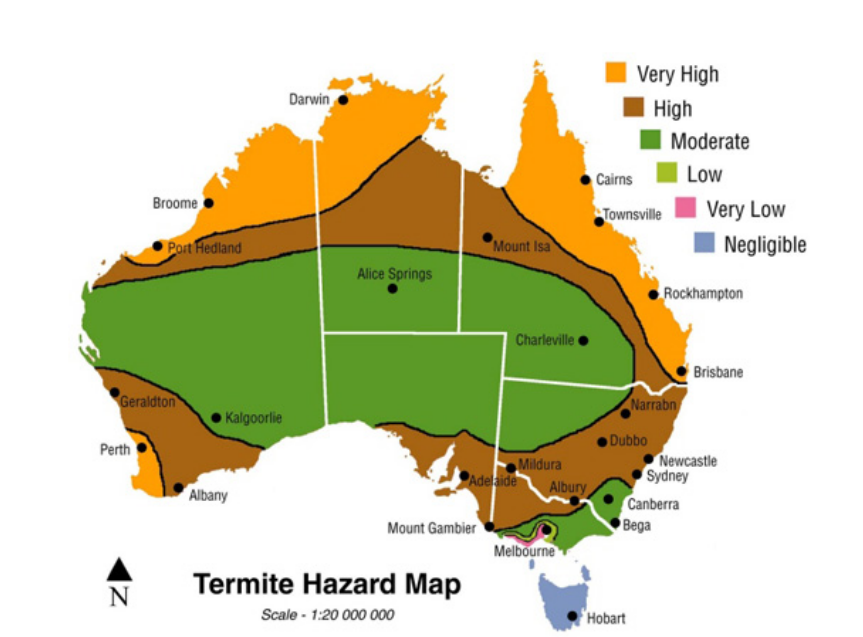 Termite Pest Control Services in Australia
With one in four Australian homes affected by termites in their lifetime, it is essential to take termite control seriously, and take preventative measures against them. Termite damage is not generally covered by home insurance and in some cases will cost thousands of dollars to repair, but potentially worse is the feeling that your future home is no longer the cozy, welcoming safe haven that it should be. Pest proofing solutions comprehensive termite inspections are carried out by expert local termite control technicians. With the winning combination of on-the-ground experience and knowledge of the latest global technology, our technicians have the expertise for your unique home.
Enhance the longevity of your residence/ business site with Termite Control And Prevention Treatments:
Termites are hampered and destroy the strength of the entire structure of your building. These are pests that can cost you thousands of dollars in damage to your property if they attack. Pest Proofing Solutions can assist you in getting controlling termite infestations and helping to prevent future attacks and damage. The experts at Pest Proofing assess the building thoroughly and provide relevant standards and provide a thorough digital report and termite management action plan if required. Reports are sent directly to your email address on the same day. Meaning our reports are paperless and contactless. 
Contact us to know more about Termite solutions pest control in Australia. 
Termite Inspections in Brisbane
Termites cause extensive damage to the building and can go undetected for years if the home is not properly inspected by a professional. Hundreds if not thousands of homes suffer from termite attack each year in Brisbane. A thorough Termite Inspection is the first option to keep termites out of your premises. 
We at Pest Proofing Solutions are here to help you in providing the best quality and reliable Termite control services in Brisbane. From Inspection to Treatment we follow a special strategy to provide guaranteed results to our clients. We offer same-day services on termite inspections, action plans, proposals, and treatments as per the situation and your needs. All reports can be generated digitally onsite and sent directly to your email address right then and there.
If you are in search of Termite Inspections in Brisbane, look no further than Pest Proofing Solutions. We use state of art Termite detection systems and specialised tools to help us detect termite infestation. We have performed many termite inspections over the past few years around Brisbane. The professionals at Pest Proofing Solutions can assist you in the early detection and prevention of termites. If your property is unprotected, termites can cause a severe amount of damage to your property in a short amount of time. It has been said termites can consure over one meter of timber per day.  
Termite Services we offer
Pre-sale timber pest inspections 
On behalf on the seller to identify and rectify potential issues prior to listing 
Pre-purchase timber pest inspections 
On behalf on the prospective buyer to highlight areas of concern 
Annual termite inspections 
In order to maintain warranty on existing systems 
Invasive termite inspections 
Where known termite infestations exist
Remedial termite treatments
Treatment of known termite infestations or colonies 
Installation on termite management systems 
Pre and post construction – physical, chemical and baiting
At Pest Proofing Solutions we offer a no contact and no paper report, sent directly to your email address. 
Using the latest digital forms from Formitize helps us to provide you with the most detailed reports available including photos. 
Be sure to call the professionals at Pest Proofing Solutions for a Termite inspection and or Treatment you can rely on and trust.