Termite Treatments At Pest Proofing Solutions
Are you looking for affordable termite treatment for your home? We are here for you!
Pest Proofing Solutions is a company in the top position to provide a wide range of solutions for your pest management needs. 
We offer effective Termite Treatments for both residential and commercial clients, conducted 
Top-Quality Solutions for Pest Proofing & More
Our highly trained staff are equipped with state-of-the art equipment to take on just about any issue they may face out in the field.
Signs You Have A Termite Infestation?
Some of the signs indicated that you have a Termite Infestation at your place are,
Blistering of the timber

Hollow sounding timber

Crumbing or damaged timber

Small holes in timber or plaster 

Trail like pattern on plaster wall

Mud workings tubes or galleries 

Termite mud nest in the garden or a tree
Termites have been found deep underground within mine shafts but generally forage in the first 300mm topsoil layer looking for food and moisture. 

Termites can travel around 100m from their nest but returns daily to tend to the nest and offspring.
Only the male reproductive termite has eyes, all other stages of the life cycle do not have eyes and are completely blind. 

Termite are always working and never sleep 
The queen is constantly laying eggs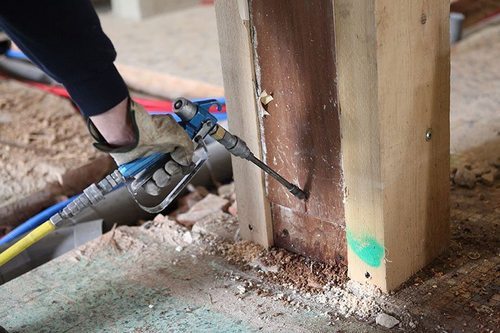 Our Pest Proofing Services
Steps To Be Taken At Your Home Or Office
Termites can cause a lot of damage quite quickly. It's been said a large termite colony can disttroy over 1m of timber framing per day. They can render a house unlivable if the problem becomes severe and structural. The person who finds signs of termite activity inside a building has several options for professional eradication and ongoing protection from continued termite infestation and timber damage in the building.
Process consists of the following:

Initial inspection and report- a thorough inspection of buildings and surrounding areas will be done as per the Australian standards. Digital report will be developed and sent to your email address for your reference.
A termite management plan will be developed if required detailing the recommended options for termite treatment and or installation of a termite management system.
Physical termite management systems- installation of termite resistant products during construction or renovation to help prevent concealed termite entry.
Chemical Soil Treatment- The aim is to create a complete and continuous treatment zone around the perimeter of the structure. When termites pass through the treatment zone they become poisoned and contaminated.
Termite Baiting- This method relies heavily on the finding where the termites are actively feeding, in order to place a supplementary food source being a termite baiting box or bag.
We take the above-stated steps in the prevention of termites in accordance with the relevant Australian standards.
Why Book Our Residential and Commercial Services?
All types of Residential and Commercial pest management programs
Friendly 24/7 customer service and advice
Same day digital reporting service
Cost and obligation free quotes
We are just one step closer to you! Feel free to contact us at Pest Proofing Solutions for Termite related issues and or advice.
Termite Treatment to Control the Issue:
We at Pest Proofing Solutions have several different methods for controlling termite infestations. Treatment methods such as applying bait or chemical application. We do not apply a one-size-fits-all approach, we will customize a plan accordingly based on the severity and location of the infestation. 
Feel free to contact us at Pest Proofing Solutions to know more about our Termite Treatment. 
Termite Treatments In Australia
Do you want to find affordable termite treatments in Brisbane?  Pest Proofing Solutions is here for you!
Termite control methods for termites can be divided into 2 groups. They are termite prevention and termite treatment. Preventive measures can be applied during the construction of the new building and termite treatment can be applied to pre-existing buildings in your area. 
There are different options available to be used in the control of termites. Some are the application of termiticides and baiting. But the only way to get rid of termites completely is either the use of chemicals or baiting. We at Pest proofing provide the best options in controlling termites for your place.
To know more about the subterranean or drywood termite treatments in Brisbane, feel free to contact us today!
Termite Treatment
With one in four Australian homes affected by termites in their lifetime, it is essential to take termite control seriously, and take preventative measures against them. Termite damage is not generally covered by home insurance and in some cases will cost thousands of dollars to repair, but potentially worse is the feeling that your future home is no longer the cosy, welcoming safe haven that it should be. Pest proofing solutions comprehensive termite inspections are carried out by expert local termite control technicians. With the winning combination of on-the-ground experience and knowledge of the latest global technology, our technicians have the expertise for your unique home.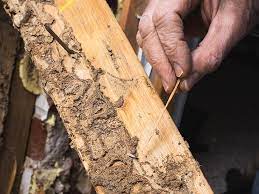 GET SERVICE NOW
Our Pricing
Residential Sanitizing Services Rates
There are companies that offer package pricing, flat rate pricing but we have over 25 years experience with in-home estimating and can quickly assess the time required for a cleaning for you. We believe flat rate pricing or package pricing over-inflates the price to cover for inadequacies in estimating.
Benefit From Our Affordable Prices
If you require a domestic cleaner or house cleaner on a weekly or fortnightly basis, the cost starts from $15.00 per hour.
A deposit will be required for our "one-off" cleaning service.
| Residential Services | Price |
| --- | --- |
| Mattress Sanitizing | from $150 |
| Furniture Sanitizing | $750 - $1,000 |
| Carpet Sanitizing | $50 - $75 |
| Whole Home Sanitizing | |
| Air Duct Cleaning | $750 - $1,000 |
| Drape Sanitizing | $150 |
| Furniture Upholstery Sanitizing | $50-$80 |
| Gutter Sanitizing | $150 |
| Roof Sanitizing | $250 - $300 |
| Wall Sanitizing Service | $650 - $700 |
Quickest Way to Sanitize
Why Steam Cleaning
We use a state of art technology to achieve deep sanitizing to remove and kill deeply embedded allergy and germ-infected debris.
Completely natural, steam lifts heavy stains from fabric, dislodges encrusted dirt, melts away grease or grime, kills molds and mildew.
We do not use any chemicals, so there is no harmful residue left behind on surfaces that could be toxic to pets and children. About Us